A closer look to CO2 Regulator Kit
A closer look to CO2 Regulator Kit
Creating an aquarium enriched with CO2 injection is highly beneficial for plant growth and the ecosystem's health. Today we want to analyze all CO2Art Complete Kits to help you to choose a setup that works perfectly with your entire system.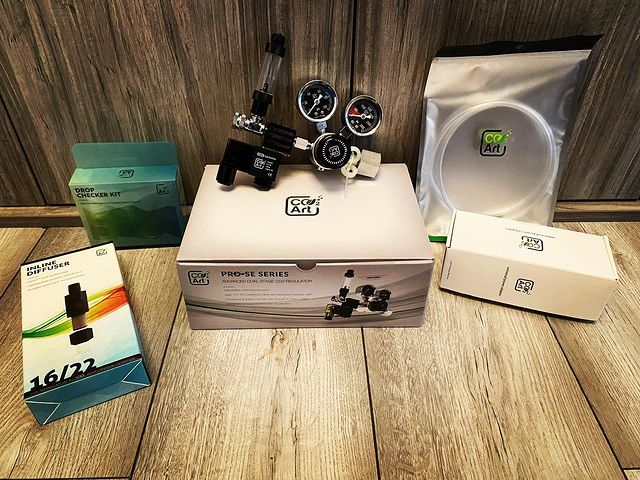 Why a complete CO2 regulator kit is better than combined equipment?
Firstly let's think why buying a complete regulator kit is better than gathering all the components separately. What exactly are the benefits?
Size standards
It's a bit like buying clothes in different shops. In one shop you can wear size S while in another one it turns out that size M fits you better.
In aquarium industry it's quite similar. For example, similar products such as a diffuser from company X may not fit the tubing from company Y. Therefore it's good to purchase the CO2 System from one brand only to guarantee everything will connect together.
Every batch is slightly different
Manufacturers of CO2 equipment often make changes in their products to improve the quality or functioning of the devices. This may affect compatibility with other parts of the CO2 system. The benefit of having products from one batch guarantees that all equipment is compatible and the risk of possible gas leaks is much lower.
One stop shop for support
Fertilizing plants with carbon dioxide can often seem complicated, especially for the novices in this hobby. Setting up the system generates more questions than you may imagine. Purchasing the complete CO2 Regulator Kit will help you to avoid plenty e-mails with different companies, instead you have a single point of reference for all your support needs, answering all your questions and helping you get started.
CO2Art Regulator Kits
CO2Art provides you with Complete CO2 Kits allowing you to control the CO2 saturation in precise and convenient way. All you need to do is decide on your diffusion method and source your own co2 tank.
Regulator choice
Our company designed two models of CO2 regulator. To choose your Complete Kit, firstly you need to choose the regulator with the key features that suits your needs.
Their common feature is primary dual stage construction preventing the end-tank-dump. Thanks to this construction, your fish will be safe no matter if there is CO2 in the bottle or not. While choosing a new regulator kit, this should be taken into account at the beginning.
Both of our regulators are available with CO2 threads suiting worldwide CO2 bottle standards: W21.8x14/BS341/DIN477 and CGA320 version for North America. However, in our offer you will find also CO2 adapter allowing to connect your regulator to Sodastream or Paintball bottle.
All of our regulators are equipped with power supply with universal voltage 100V- 240V and 4 interchangable plugs.
Both regulators are also equipped with integrated bubble counter with in-built check valve protecting your gear from water back flow damaging the regulator.
All of our regulators are made of durable components (which is guaranteed by even 10 years of warranty!).
Pro-Elite CO2 Regulator
This exclusive device will service more than one aquarium or diffuser thanks to extendable manifold block. You can run 5+ manifold blocks with only one CO2 bottle and solenoid. This functions well in aquascape galleries because the pressure can be adjusted on each manifold separately thanks to high precision needle valve. The Pro-Elite Regulator also features an adjustable working pressure up to 80PSI. Fitted with the exact thread for attaching to a fire extinguisher co2 tank.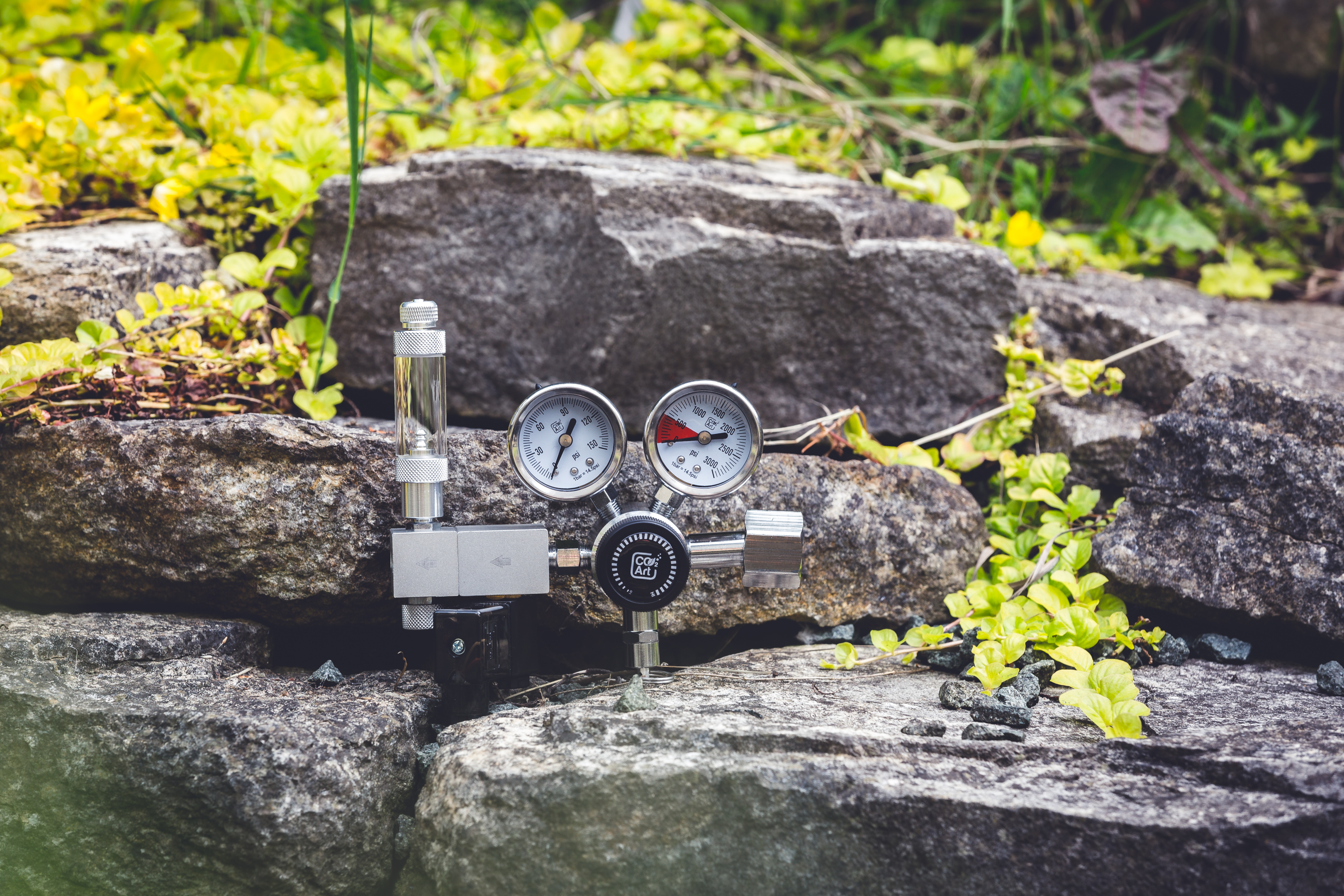 Pro-SE CO2 Regulator
This is the most popular regulator in CO2Art ever! This model allows you to run one diffuser with the highest precision of carbon dioxide dosing and adjustable pressure up to 40PSI. Classic and modern at the same time will help you to see the difference in your plant growth and colouration. Always in stock and designed to attach directly onto a fire extinguisher co2 tank. For other kits, search for our selection of adaptors.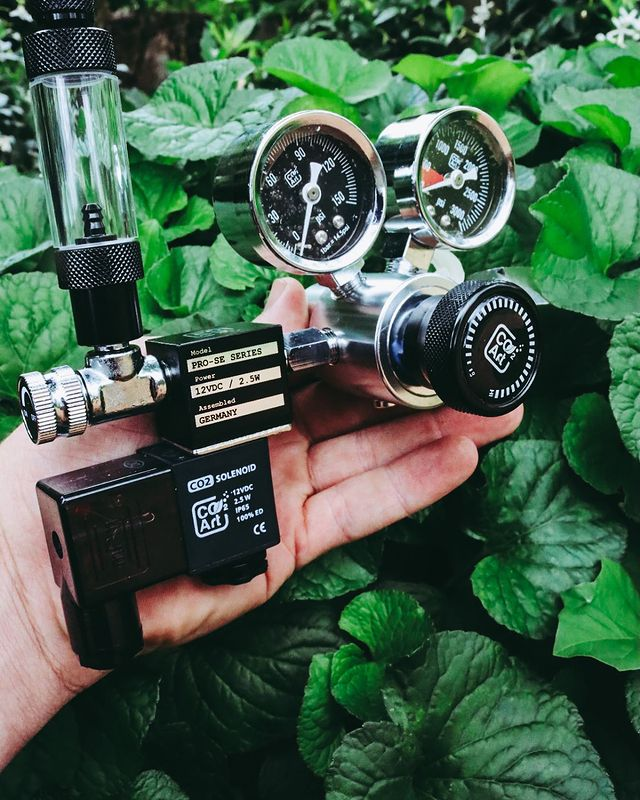 Diffusion method
Depending on the diffusion method you want to use in your aquarium, you can choose the diffuser to your CO2 Complete Kit. Carbon dioxide can be injected in-tank (inside the tank) or in-line (outside the tank). Diffusers optimize the carbon dioxide entering the aquarium for efficient gas absorption.
CO2Art In-line Diffuser
This diffuser can be only used with an external filter. The ceramic membrane is made with Nano CO2 Mist Technology providing the highest dissolution rates for efficient plant absorption. The membrane is interchangable which is a very convenient way of keeping the device clean. The diffuser size should be chosen according to your external filter hose: 12/16- 13mm or 16/22-17mm. In-line diffuser is specially recommended for tanks of a big volume. The less gear in the CO2 tank, the more growing space for plants!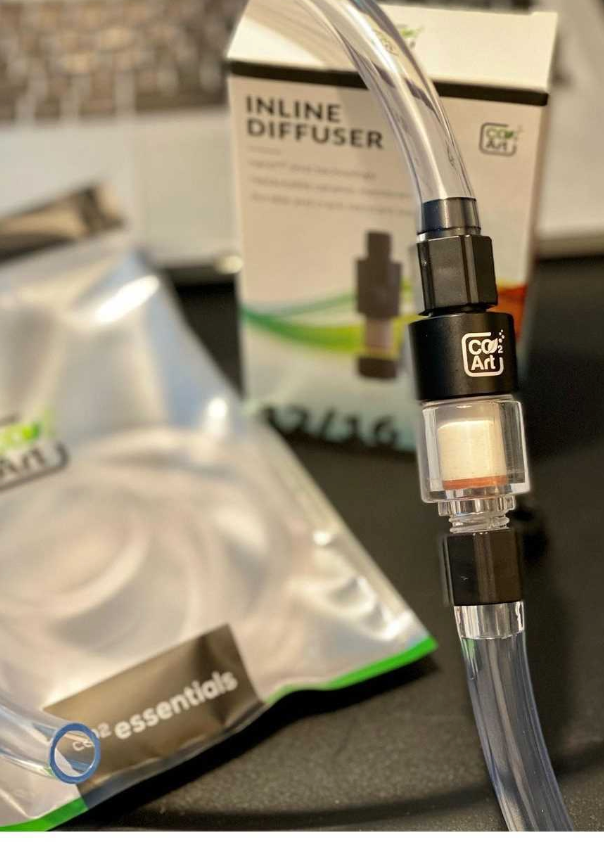 CO2Art Flux Bazooka In-Tank CO2 Diffuser
Who said in-tank diffusion is less efficient? It's all about the ceramics! The Flux Bazooka CO2 Diffuser is made with high quality ceramics, also made with Nano CO2 Mist Technology. The New Generation of this excellent diffuser is now in brown colouration so the device blends into the arrangement perfectly. Two high quality suction cups attached directly to the atomizer allow stable positioning on the aquarium glass. Depending on your tank size, you can choose between two sizes: Small for tanks below 65G or Large- above 65G. To run this diffuser, external filtration is not allowed. For its optimum performance, it's recommended to run pressure at least 40PSI (3 bar).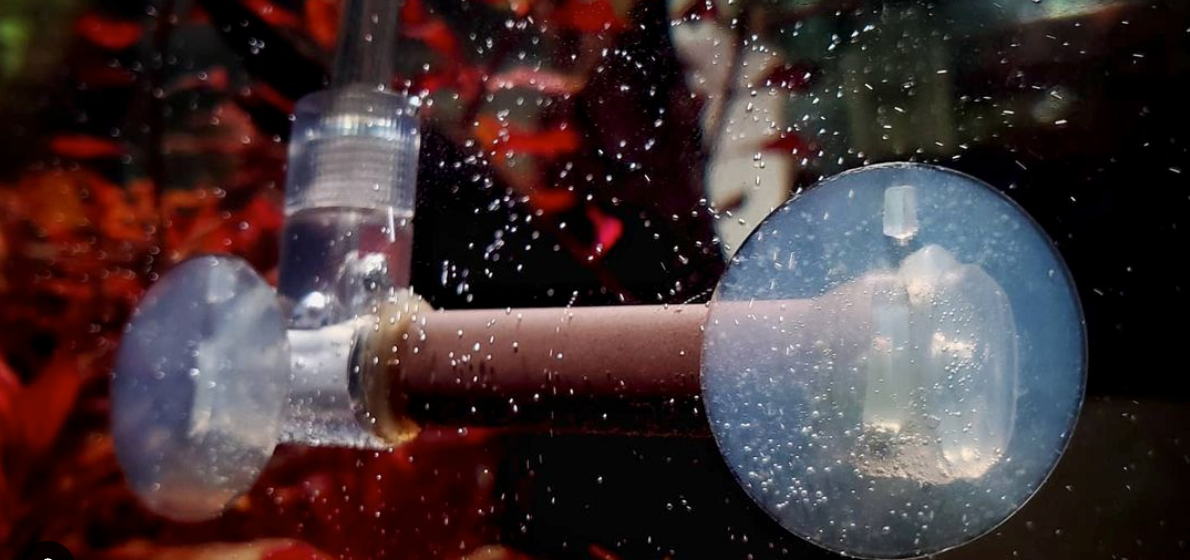 Tubing
Who thinks that tubing is the least important thing in the Kit, can't be more wrong. Tubing is responsible for safe and durable connection between the regulator and the diffuser. The wrong tube type, or tubes made of non-CO2-resistant materials, cause unwelcome CO2 leaks. Avoid silicone tubing.
CO2Art provides you with the highest quality Polyutherane tubing. Food grade, high-pressure rated and incredibly reliable. Each regulator kit includes one piece of tubing available in 5 colors (clear, black, silver, blue or green) and 3 lengths: 3.3feet, 10feet or 20 feet. With regular maintenance, it can serve you even 30 years of performance!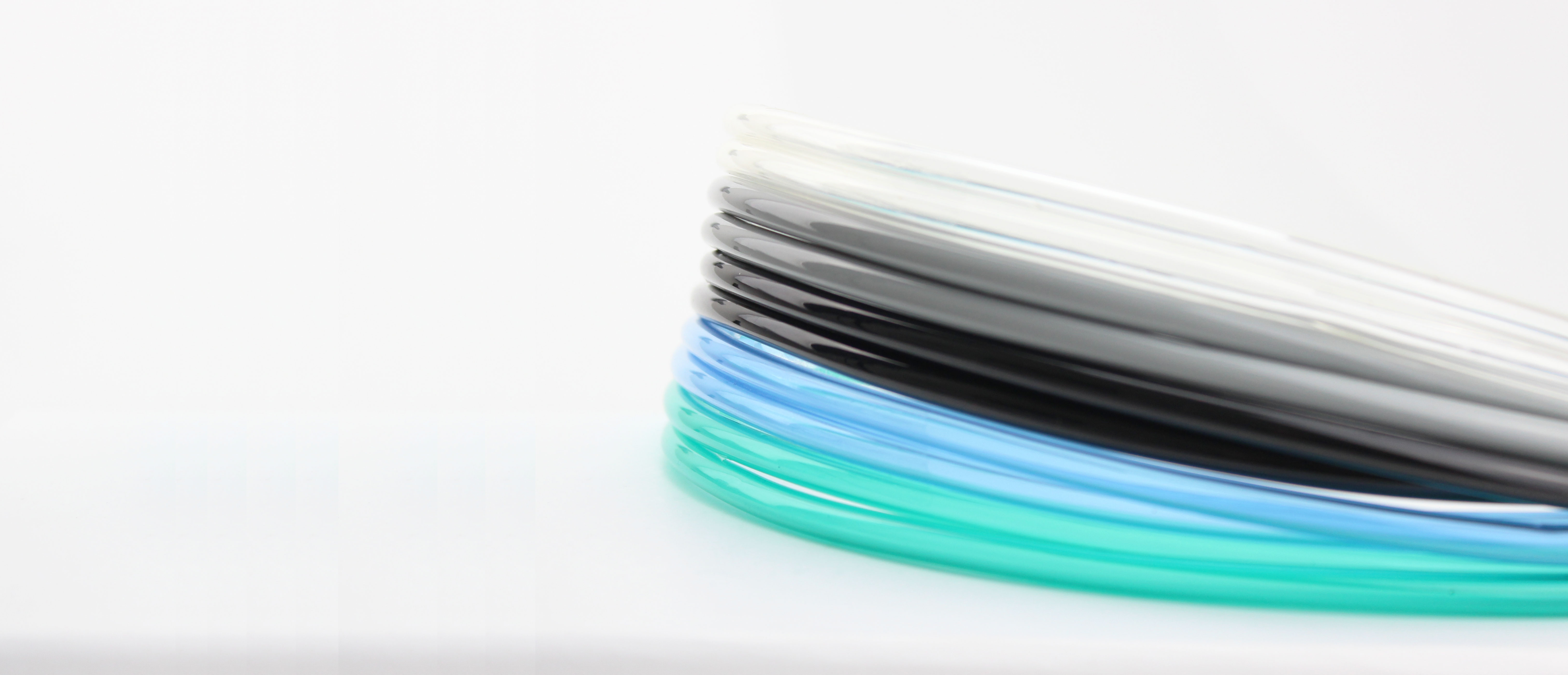 Drop Checker Kit
Every Complete Kit from CO2Art is equipped with this fantastic tool allowing to monitor the water pH. The drop checker kit is simply a glass vessle with a suction cup positioned in-tank, with a pH reagent inside. Depending on the amount of carbon dioxide being injected into the aquarium, the reagent changes the color. If it's medium to light green- there is an optimum amount of CO2, safe for live stock; blue is a sign there is too less CO2; if it's a light lime green to yellow- the CO2 concentration is too high which can be lethal to fish and other aquatic animals.
This excellent visual indicator helps a lot on daily basis as we can see the changes in water chemistry with a blink of an eye. More about this method in our coherent article about 7 Things you need to know about drop checkers.
This is an optional part of CO2 gear but highly appreciated by many hobbyists. Therefore it's included to each of our CO2 Regulator Kit. If the bottle with the reagent is empty, you can always purchase a refillable bottle separately without the need of buying the whole Drop Checker Kit. Together with the bubble counter method, you can see the most accurate read of the gas injected- for fish safe life and plants thriving at the same time.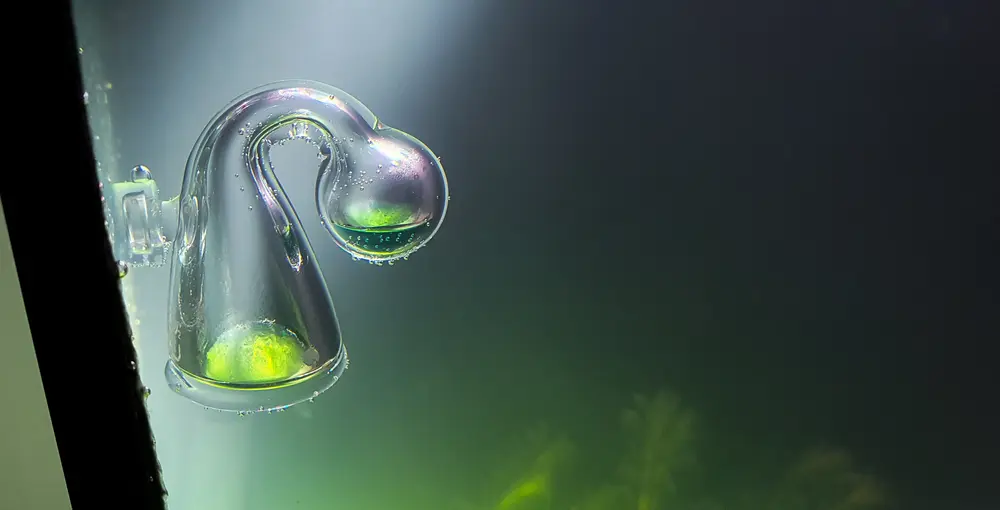 A little bonus
Yes, they may be small but the will let everybody know that your setup has real power! All of our CO2 regulator features a CO2Art sticker that can be put on the aquarium glass to show off which brand controls your pressure! You can find this sticker in the box with power supply. Display one on your tank and don't forget to tag #co2artgear on your Social Media to show the world who powers your underwater garden!
Summary
Among so many brands on the market to search through, it's hard to decide which one offers the best gear for your CO2 tank. However, in this matter we recommend to choose reliable sources. Please note that CO2 Regulator Kit is not a regular purchase and the features and benefits of high quality kits should provide you with a service for years.
On the CO2Art website, we always have stock and if your registered, you will receive exclusive deals allowing you to have our premium CO2 Regulator Kit at a price you can afford! Sign in to our website and search for your next regulator kit among CO2Art high quality Complete Kits! Read reviews from thousands of satisfied customers and let your plants thrive! Contact us on social media and connect with other aquascapers who have used our website to start their journey into co2.
P.S: We ship to customers worldwide and on your first order you can have a 10% discount with a code "WELCOME10"! If you have any doubt, contact our support service team who are always ready to help and give you any tips regarding CO2. They even have some tricks up their sleeves that may just help you get the most out of your regulator.
---