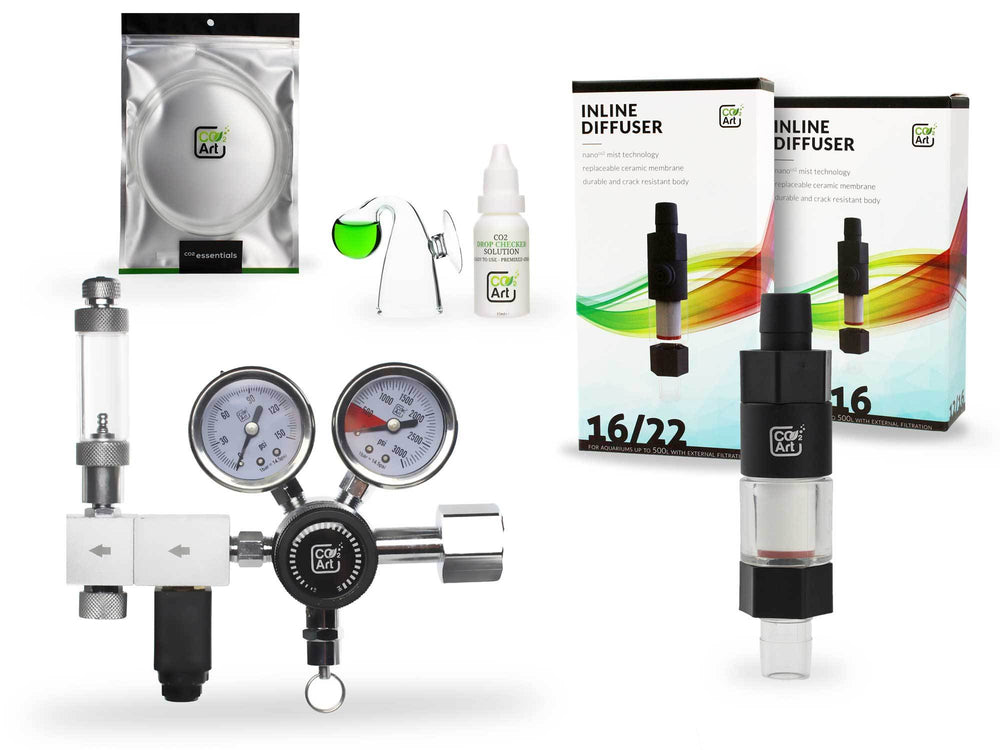 Real Photos from Real Customers
Pro-Elite Series Complete Kit is the most advanced CO2 System available in the aquarium hobby. This system is being used by both professionals and amateurs all over the world being a part of the best aquascapes ever. 
This reliable CO2 System comes with our best-rated Pro-Elite CO2 Regulator allowing the user to run multiple diffusers due to the extendable manifold block system. Its dual-stage construction minimizes the increase in output pressure as pressure drops in the gas cylinder and will prevent end-tank-dump keeping your livestock safe and the CO2.
The system is equipped with our New CO2 In-line diffuser, allowing the user to install it outside the aquarium, leaving more space for plants or fish. The diffuser contains a replaceable ceramic membrane made with Fine Mist Technology providing the best dissolution rates. Depending on your filter output, it comes in two sizes: 12/16mm and 16/22mm.
For safe and reliable CO2 injection, the CO2 System contains high-quality CO2 resistant CO2 tubing available in 5 colors and 3 lengths. All our CO2 tubes are compatible with all CO2Art products. 
To measure the amount of CO2 present in the water constantly, the Drop Checker Kit is included into the Pro-Elite Series Complete Kit. If the liquid in the glass chamber is green lime, the CO2 level is safe for your livestock. This visual indicator is more than helpful in daily tank maintenance. 
List of all included accessories :
PRO-Elite Series - Aquarium Dual Stage CO2 Regulator with Integrated Solenoid

Aluminium Aquarium CO2 Bubble Counter

New Inline CO2 Diffuser

Aquarium CO2 Drop Checker Complete Set

CO2 Resistant Tubing
Did you know!? The Pro-Elite Series CO2 Regulator comes with a 10-year warranty and lifetime support! Why not to scape like a boss? 
---
If your aquarium is not equipped with an external canister filter, this kit is the right choice for you:
Pro-Elite
Series

Pro-SE
Series

Warranty
10 Years
5 Years
Construction
Dual Stage
Dual Stage
Integrated 12VDC Solenoid Valve
✓
✓
Maximum Working Pressure
80PSI / 5.5Bar
40PSI / 2.7Bar
Pressure Stabilisation
~ 1PSI
~ 5PSI
Bubble Counter with integrated check valve
✓
✓
Inline Atomizer Compatible
✓
✓
In-Tank Bazooka Atomizers Compatible
✓
✓
Standard Ceramic Diffuser Compatible
✓
✓
Low-pressure Reactor Compatible
✓
✓
End Of Tank Dump (EOTD) Prevention
✓
✓
Adjustable Working Pressure
✓
✓
CGA320 Connection Option
✓
✓
Stackable Outlets
✓
X
Multi-Diffuser compatibility
✓
X
CO2Art delivers products with outstanding quality. And great products come with great service.
That is why we can offer up to '10 Year Warranty'!
WARRANTY PRODUCTS
The following product receives a 10-year warranty:
The following product receives a 5-year warranty:
All other products receive the standard 2-year manufacturer's warranty 
*Please note that the warranty that CO2Art offers is non-transferrable
In addition to our industry-leading warranties, all CO2Art customers receive lifetime:
Free online technical support
TERMS AND CONDITIONS
Scope of Warranty
This warranty covers any defects in materials and workmanship under normal home use.
Period of Coverage
This warranty runs for a minimum of two years from the date of purchase. Please save your receipt.
Limitations
Failures due to abuse or misuse are not covered by this warranty. Surface coating problems caused by excessive humidity, in-use scratches or abrasions, and direct exposures to the elements are also not covered.
Repair or replacement is the only option available under this warranty. CO2Art is not responsible for damages of any kind, including incidental and consequential damages.
Correction of Details
If your product cannot be repaired, we will replace your product free of charge.
When You Need Service
Please contact our support centre to obtain an RMA number and return instructions.
How Country and State Laws Relates to the Warranty
This warranty gives you specific legal rights. You may also have other rights that vary from country to country and from state to state.
If you would like to return a product, start the process by emailing us at support@co2art.us This allows us to see if there is something we can do before returning the product such as a feature you didn't know about or send you a return label. We don't require an RMA number but do ask you to contact us to initiate the return.

Products bought from http://www.co2art.us can be returned within 30 days of the original purchase date provided they are unused, undamaged and in the original product packaging. If a product does not meet these requirements we reserve the right to deny the return if we feel that it is warranted.

Who pays for shipping? In the event an item is damaged during transit etc, CO2Art will provide you a shipping label. If you are returning an item for another reason, it is your responsibility to get the item back to us safely. If it is a high-priced item we recommend a tracking number.

Items that go on sale after you purchase them. We will honour a sale price up to 7 days from the day you purchased your item, this is the day on which the order was placed.